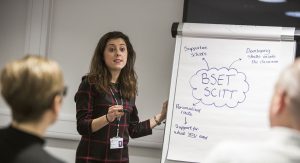 "As a BSET Trainee you are treated like a member of staff in your placement school. All of the schools are incredibly supportive of you as a trainee."
"Lots of hard work, lots of advice but most importantly lots of support."
"I was supported throughout the year. All my questions have been answered, issues addressed and I was reassured that my efforts have not been overlooked. Most importantly, I am confident and feel ready for my NQT year, thanks to the 'hands-on' nature of the course."
Sarah trained to teach Mathematics on the Fee-Paying scheme. She is now employed in a BSET school.
"Each trainee has a Teacher Mentor and a Professional Mentor in school and a Subject Tutor so there are always experts to call on.    What have I enjoyed the most?  The chance to research and put into practice a whole host of strategies and ideas which I have observed and/or read about – to develop my own subject knowledge and teaching style and to feel part of a team from day one."
Sue trained to teach languages on the salaried scheme.  She is currently employed in a BSET School.

 "Two terms into my placement and I have thoroughly enjoyed the experience. The students make the job so rewarding, no student is the same which makes every day different. The placement has been fun, exciting, and at times challenging but the support from other staff is fantastic and made the whole experience enjoyable."
Ruth trained to teach maths on the salaried scheme following a successful career in the finance sector.  She is currently employed in a new secondary academy in the area.